The importance and value of a permission based email marketing list can not be overstated. This is seriously one of the most important things to have for any business owner. Yes. Even as a self-proclaimed "social media guy", I will say when it comes to driving actual revenue – email trumps all other forms of online marketing including social.
However, developing an online marketing strategy that integrates social media and email marketing? That's powerful stuff, man. So, let me show you how incredibly easy it is to use social to grow your permission based email marketing campaign.
My personal sequence as explained in depth below:
Paid Facebook Ad
Website landing page
Email confirmation double opt-in
Thank You page with Viral loop
Drip 1 – Awareness
Drip 2 – Education
Drip 3 – Sales Pitch
Using social media to drive email opt-in's
In this experiment I wanted to develop a baseline of exactly what 100 email addresses costs me, and what kind of revenue it will bring me over at my personal sandbox, Five.Oh.Seven. Clothing. If the numbers make sense at the end of the experiment, it's as simple as "X goes in, Y comes out."
This experiment ran for three days. January 2nd through January 4th.
---
Creating The Paid Ad
The point of the paid ad is to stand out in the crowded Facebook news feed and offer an incentive to click on the ad. There are a number of psychological items that play a key role in the success of a Facebook ad.
Key Elements:
Short and sweet ad copy
Offer the incentive up front

"FREE '507LIFE' stickers!"

Multiple Calls to action

"Click below and claim yours while supplies last!"
"Free stickers! ► http://bit.ly/1zJnWXa"
Faux red CTA button on the actual image
Link headline again is a big "Click here" CTA
Link description supports the value proposition

Red border around the ad to draw attention in the cluttered news feed
---
Targeting

The purpose of this experiment isn't just to show you how to grow a list of email addresses, but more importantly, to grow a list of the right email addresses. That's done through effective ad targeting.
I could have gone even crazier on the targeting using retargeting, excluding specific audiences, custom audiences, etc. But I wanted this to be as straight forward as possible and only use age and location as audience modifiers, and only place the ad in the news feed.
---
The Landing Page
I don't want to get too crazy analyzing every decision that was made because I don't want this to turn into a multi-sitting read. But I will point out how hyper-focused this landing page is around one specific goal. Converting.
Key Elements:
Headline states the value proposition
Sub-headline supports why the VP is important
3 simple steps are outlined right up front.

Signals a very small time commitment
Signals no hidden steps – builds trust

'Send' button reaffirms what they will get for opting in
Social proof, '173 already claimed'
Opt-in form is bordered in red to draw attention
Mobile responsive design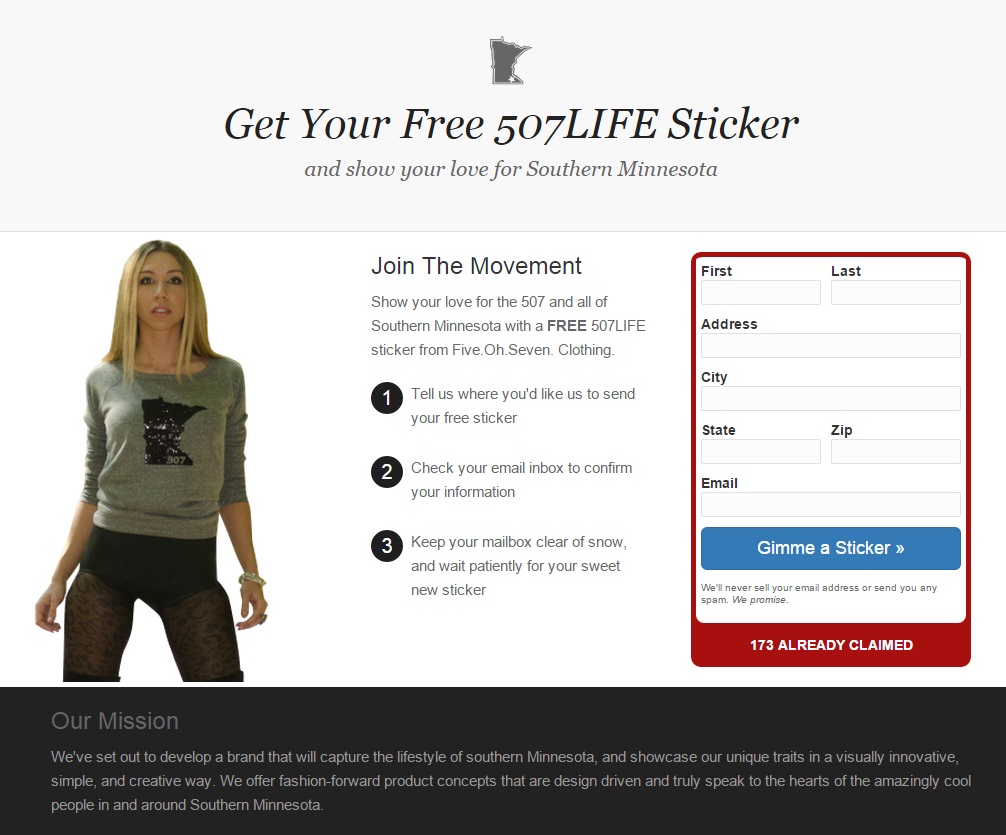 Click here to see the live landing page
---
Sign up sequence
It's very important to set up a sequence of events to ensure the people opting in are staying engaged, building that trust, and completing the opt-in process.
Here are screen shots of each step of the sequence. You can also click here to see the live "please confirm" page, and here to see the final "thank you" page.
Steps 2, 3 & 4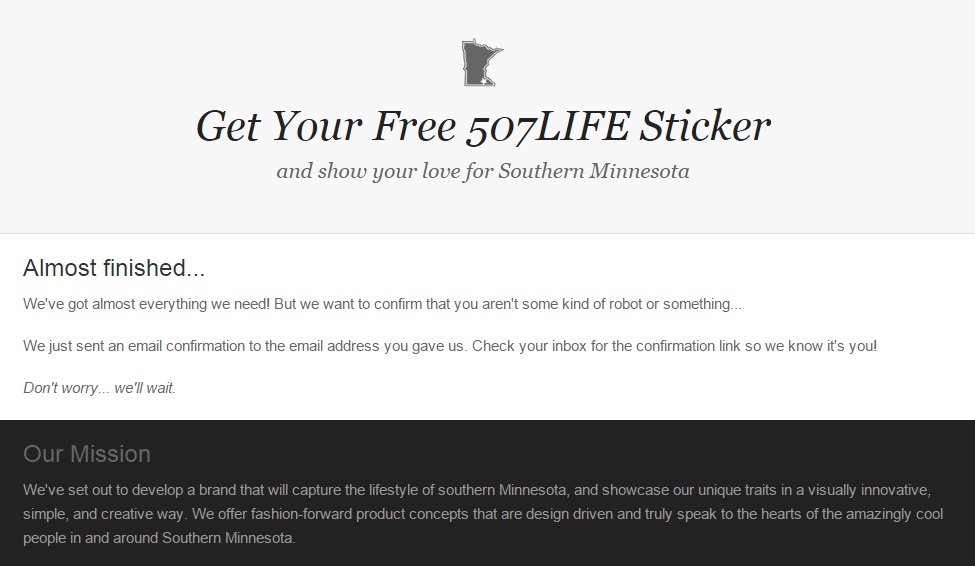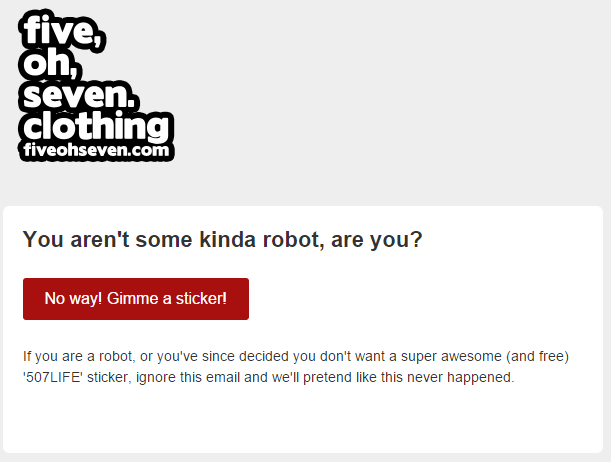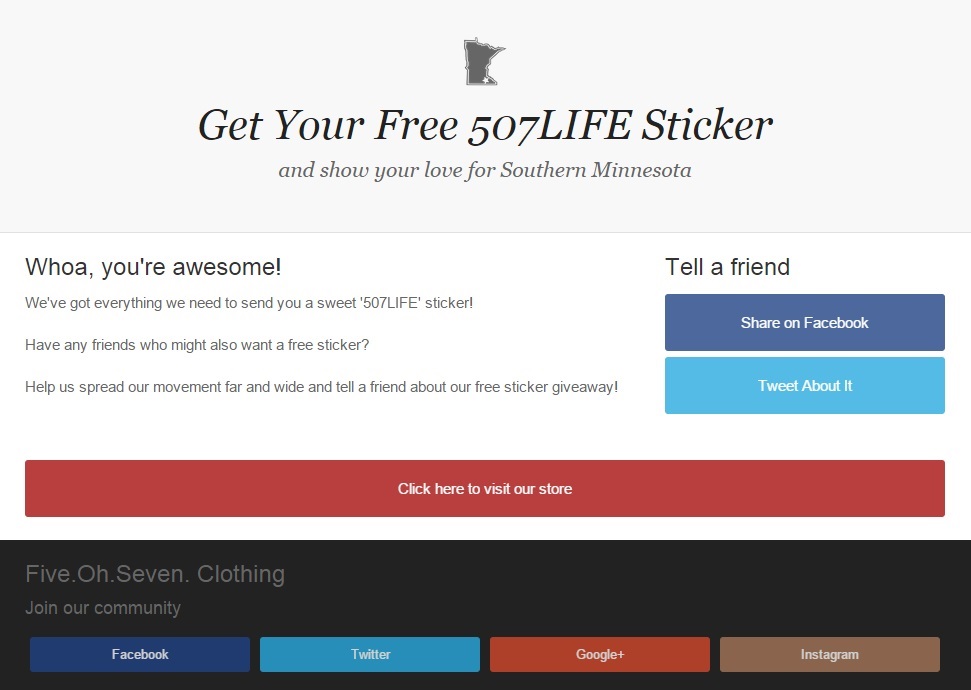 ---
Creating The Viral Loop
I want to highlight the final "confirmation page" quickly. It's very important to me that the journey doesn't end here. The #1 thing I want to happen after they complete their own personal opt-in is to then have them refer a friend to opt-in. This is important because it sets up a viral loop of free opt-ins. Remember, I only pay for the traffic of the original opt-in, I don't pay for the referral.
You're probably saying, "but shouldn't the next step be to get them to purchase?" Of course. But I know they aren't ready at this point. I'm still "warming them up". Once the user has opted in, now I can enter them into a 3-part drip campaign over the next 11 days culminating in the final "hard close."
Like I said, #1 goal is to get the referral. However, I always provide additional options such as clicking directly to the shop or an attempt to gain a few social media follows.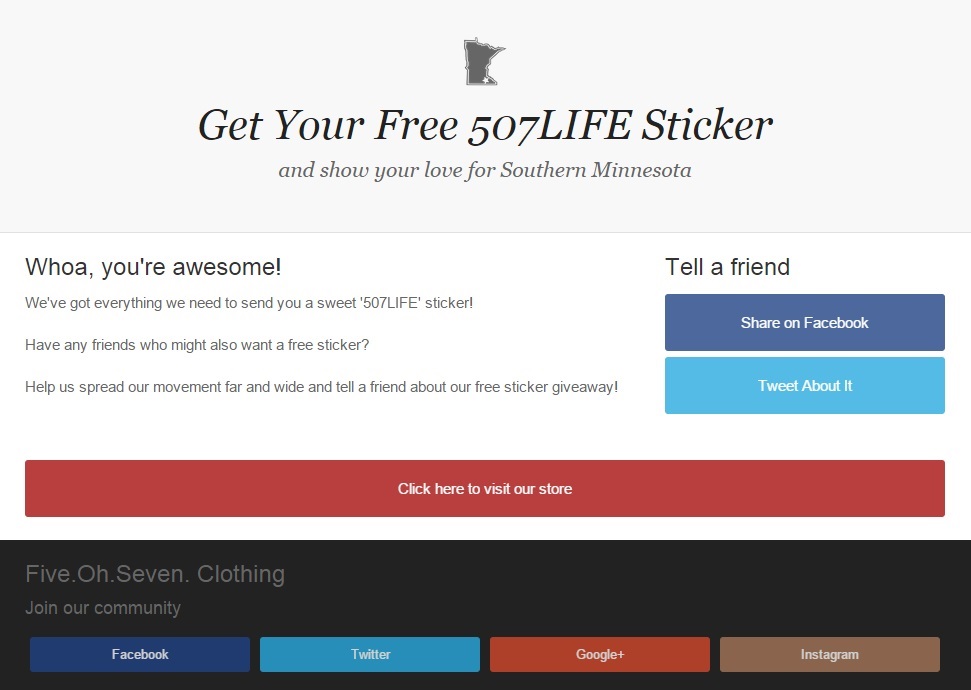 ---
Drip Email 1
Sent 24 hours after opt-in
For those that aren't as keen on industry speak as others, a "Drip" email is an email that is automated to send at a specific time. In this case I have drip emails scheduled at 24 hours, 4 days, and 11 days. Each email in the queue contains a specific message and is trying to accomplish a specific goal.
Step 1 of this 3 part drip campaign is automated to send 24 hours after they have completed their opt-in. I typically use the first step of the drip campaign as a tool to build "awareness" about the brand. In this case that's done by introducing the people behind the organization. This puts a face to the brand and due to the nature of this brand and it's geography, the whole "locally owned" concept is a key driving factor.
You can click here to see the actual email.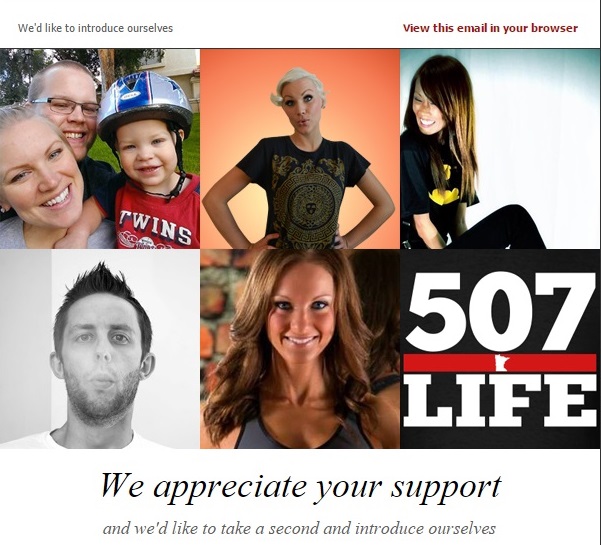 Click here to see step 1 of the drip campaign
---
Drip Email 2
Sent 4 days after opt-in
Where Drip 1 was used as an introduction and a thank you, my Drip 2 usually plays the role of "educating the consumer"
In this case, my "educational" email is drawing attention to one of our most popular events and most trafficked non-product pages. Our yearly photo shoots act as a true differentiator between us and other similar clothing companies.
Because the email recipient is now "aware" of the brand due to Drip 1, Drip 2 is a signal that we're for real and continues to build the trust of an actual brand.
You can click here to see the actual email.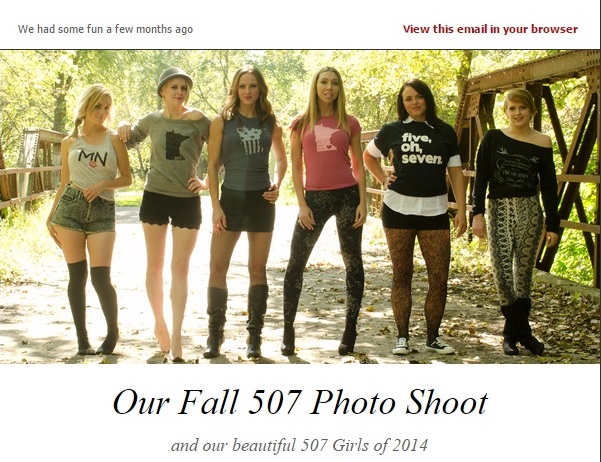 Click here to see step 2 of the drip campaign
---
Drip Email 3
Sent 11 days after opt-in
Drip 1 was awareness, Drip 2 was education, Drip 3 is finally the sales pitch.
This is where I see a lot of email marketing initiatives fall flat. They either try to close the deal too soon, or when they do try to close the deal it's too soft. In this email I go straight for the throat. I not only push them directly to the products but I also give them an instant 15% off coupon.
I also again make mention of the team to build that emotion, and express a ton of gratitude. This all plays on the psyche of the user to not only ask for the sale, but it layers on the guilt if they decide to walk away from the deal.
You can click here to see the actual email.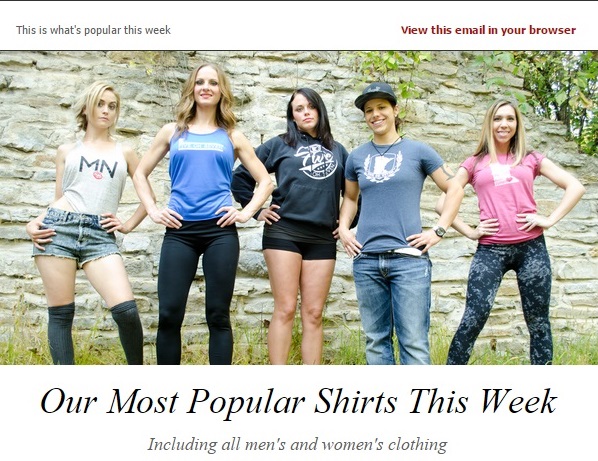 Click here to see step 3 of the drip campaign
---
Results By Segment
January 2nd – January 5th
Now, the most important part of all of this is being able to accurately track your results. Facebook's Ad's Manager does a great job on their end but Google Analytics is where you'll find the most in-depth information once someone reaches your page.
Let's try to look at the results in the proper order.
Facebook Ad Results
I ran two separate Facebook Ad's for a bit of my own split testing. One was a "Page Post Engagement" ad, the other a "Clicks To Website" ad. I'm not going to dive into the difference here. But you can see the results of each to the right.
Website Clicks: 187
Total Spent: $16.24
Cost Per Website Click: $0.08
Note: I don't factor in Facebook's reporting of "conversions." It's wildly inaccurate in almost all cases.


Google Analytics Results
The interesting thing to note here is that this landing page received 350 unique views, but only 187 were paid. This means almost 50% of all traffic came from organic posts, social shares, and that viral loop we discussed earlier.


MailChimp Results
This is all that really matters here, right? How many opt-ins did we get? After running this campaign for 2-days, I ended up with 103 unique opt-ins. The best part is that these are double opt-ins and the data includes full names, emails and addresses. That's an impressive conversion rate when requiring so much info plus a double opt-in.


Drip Campaign Results
For the uninitiated, industry average "open rate" is 12.94% for the retail industry. Industry average "click rate" is 1.52%.
To the right, you can see the breakdown of each individual drip email, as well as the overall open rate of 39.2% with a click rate of 8.7%. Both significantly higher than the industry average.
In my opinion this is due to the nature of how the list was built and distributed. Requiring the double opt-in which forces the user to identify the brand in the inbox, the personalization of the subject line and email body content, and timing of the drip campaigns.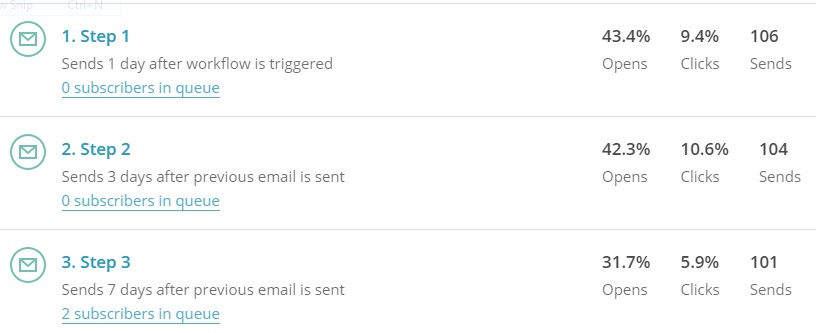 ---
Overall Results
Traffic
Unique Landing Page Views: 350
Email Opt-In Completions: 103
Landing Page Conversion %: 29.4%
Drip Campaign Sends: 311
Drip Campaign Opens: 122
Drip Campaign Open %: 39.2%
Drip Campaign Unique Clicks to Website: 27
Drip Campaign Click Rate: 8.7%
Facebook Ad Reach: 6,675
Facebook Ad Website Clicks: 187
Facebook Ad Click Through Rate: 4.24%
Expense
Facebook Traffic: $16.24
Mailing Envelopes: $2.84
Postage: $49.00
Stickers: $10.00
Total Spend: $78.08
Cost Per Email Opt-in: $0.76
Income
Orders Placed: 7
Items Ordered: 8
Sales Attributed: $185.40
---
Income: $185.40
Expenses: ($78.08)
Net Revenue: $107.32
Each email opt-in to this list is a profit of $1.04
---
There You Have It
An absolutely exhaustive review of my most recent attempt at using social media as a tool to grow a permission based email marketing list that ultimately converts to sales and bottom line revenue.
If this is your first time reading this blog, this is my M.O. I attempt to provide as many real world, real use scenarios for modern marketing techniques. I try to put it in terms that are easy to understand, and steps that are easy to accomplish with minimal background in online marketing.
If you see the value but don't have the time or willpower to trudge through setting all of this up, hire me for your next project and give me the chance to show off my skill set.

- Dallas McLaughlin