I've written and talked in length about how to use Twitter to generate leads, creating a Twitter marketing strategy, and how to put your content in front of the right audience with Twitter. It's no secret that I'm a big advocate of cutting through this noisy online world and getting my message directly to the people that need to hear it.
At the same time it's just as important – arguably more important – to be monitoring relevant conversations, brand mentions, and competitor conversations.
Let's take a look at a few real world uses for leveraging Twitter and other brand monitoring platforms.
Twitter Advanced Search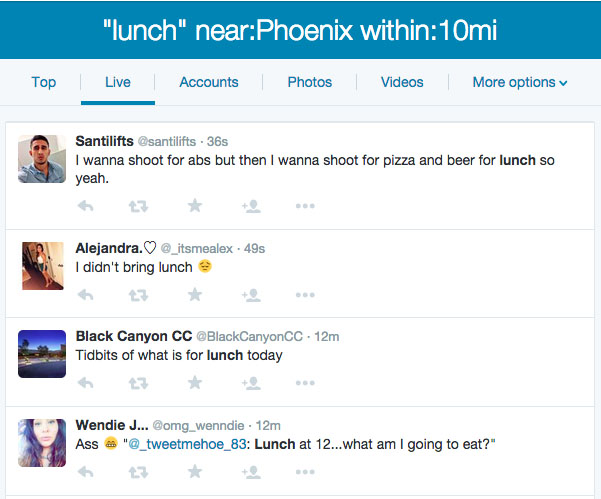 I'm a huge fan of leveraging Twitter conversations. Not to push mine or my clients content, but to monitor conversations among actual human beings and find an engaging (fun) way to engage with them as a brand.
Look at this example. Let's say you're a restaurant in downtown Phoenix with on-going lunch specials and promotions. You can continually push this information out to Twitter and hope for the best, but sometimes that can feel like shouting into the Grand Canyon.
Instead, visit search.twitter.com around lunch time. Paste "lunch" near:Phoenix within:10mi into the search bar and boom! There's everyone within 10 miles of downtown Phoenix tweeting about lunch in real time.
Now marketers, do me a favor. Don't spam the shit out of everyone and ruin this for all of us…. please.
Other Twitter Search Ideas to Try
Find conversations within a radius of a zip code



Find unhappy customers of competitors



Find competitor mentions in the local area



Monitor hashtag conversations in the local area


This is really just scratching the surface. Applications like Hootsuite allow businesses to set up "Channels" which can automate these searches and put them into neat, easy to digest feeds.
Setting Up Google Alerts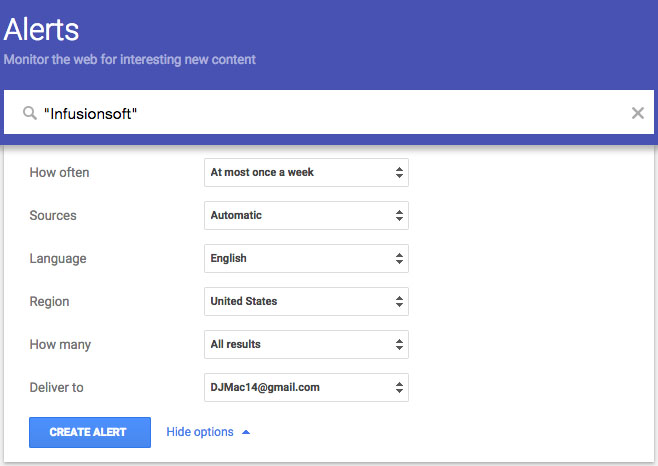 Let's be real, if it isn't on Google it doesn't exist. Meaning anything put online about your business will most likely be indexed by Google. With Google Alerts it's easy to monitor and receive customized alerts the moment anything is indexed that matches your chosen keywords.
This is a great tool to monitor reviews, blog posts mentioning your brand name, news articles and even mentions on popular social sites.
With 89% of consumers using search engines for purchasing decisions it's extremely important to know what they may find when searching your name.
Creative Google Alerts for You To Try
Get a feed of all brand name discussions:
"american airlines" discussion
Monitor competitor names, mergers/acquisitions, employees, etc.
"infusionsoft" and "joe manna"
"oculus rift" and "acquired"
Monitor brand mentions on social
"chipotle" site:facebook.com
"three birds nest" site:pinterest.com
Listening Is a Good Habit
Your audience wants to be heard and they're having this on-going dialogue about your brand and industry whether or not you're present, so why not join the conversation? Pay attention to what your audience is discussing and find a way to provide engaging content whether or not it directly aligns with your business objectives. Listen when a customer is upset about your service or a competitors service and provide feedback. When a Twitter user within 2 miles of your business asks, "What's for lunch today???" feel free to extend them an invite in a cool (non-spammy) way.
This real time feedback loop is what modern digital marketing is all about. The businesses that can find a way to leverage these strategies without abusing the power it offers can mine social and search for major community building opportunities and lead generation.

- Dallas McLaughlin