Hire Me To Speak
Let's make your next event one to remember…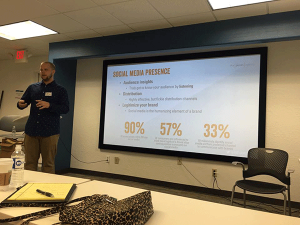 Booking the right person to speak about advanced digital and social media marketing concepts in a relatable and actionable manner falls somewhere between hard and impossible.
With all the self-proclaimed gurus, how can you be sure you're booking the right person to deliver a memorable presentation to your attendees?
By focusing on the why, Dallas has developed and refined a proven strategy that takes in-depth technical marketing concepts and boils them down to understandable – and most importantly – actionable concepts. It's Dallas' goal that every person in attendance walks away with at least one new concept that they can immediately implement into their marketing strategies.
Dallas McLaughlin, director of interactive marketing at The James Agency, is an experienced public speaker comfortable in front of any size and any type of audience. From small intimate settings, roundtable style Q & A's, to large format conference presentations – Dallas is ready to make your next event one to remember.
---
Speaking topics include:
Understanding the Zero-Moment of Truth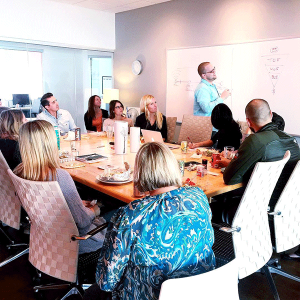 For hundreds, if not thousands of years, the sales cycle has been controlled by the business doing the marketing. This left the consumer with little to no control during the buying process. During this time Procter & Gamble famously coined the terms First Moment of Truth (point of sale) and Second Moment of Truth (in-home experience). In the last twenty years a new moment has emerged which has become known as the Zero Moment of Truth (consumer research).
In this presentation, Dallas discusses the concept of the Zero Moment of Truth and how this moment is quickly becoming the make-or-break point in a consumers decision making. We take a look at winning and losing strategies during the ZMOT and focus on how businesses and marketers can gain share of voice where it matters most.
This presentation can fill timeslots between 30 and 60 minutes and is ideal for any groups or organizations needing to understand why digital marketing is important to the long-term success of the business.
---
What people are saying:
I've put a number of Dallas' social media / marketing ideas into practice and have seen immediate (and profitable) results for both my sales funnel and book of business in general.
– Tom Frankel
[Dallas] has an uncanny sense for what works in the complex world of the web and can easily break it down for those who seek his assistance. He's smart, he's creative, he's energetic, and he has a track record of proven success in the unique business of social media marketing.
– Diane Helgerson
Dallas is an innovative and energetic expert in social media networking. His experience as a business owner brings relevance to his passion of exceeding expectations. A definite asset for anyone looking to build and expand into the realm of excellence!
– Jeff Siems
---
Let's start a conversation:
I'd love to hear more about your event, but I have to caution that I only speak at events and for organizations that I align with. This is kind of like our blind date, so let's get to know each other and see if a date is in our future!