Phoenix Pay-Per-Click and SEO Expert
Hello, I'm Dallas.
Digital Marketing Specialist in Phoenix, AZ
Are you looking for more than a vendor/client relationship with your PPC and SEO resource? That's me. I work alongside you, as a department of your business. Your goals are my goals and I exist to provide real business solutions to your company through pay-per-click advertising and search engine optimization.
I work closely with my clients, getting to know their ins and outs. I help you define your goals and establish a marketing vision to reach those goals. Next, we determine a strategy to execute the vision and create messages, identify mediums, develop appropriate collateral for execution, and track our results.
Kind words from friends, colleagues, and clients.
"[Dallas] has an uncanny sense for what works in the complex world of the web and can easily break it down for those who seek his assistance. He's smart, he's creative, he's energetic, and he has a track record of proven success in the unique business of social media marketing."
"[Dallas] is very ambitious with a mind that works in a very positive way to help push business to the next level. He grasp's multiple aspects of a project and understands people's roles and what he is best at. He is not afraid of team work and will strive to help you be the best."
"I've put a number of Dallas' social media / marketing ideas into practice and have seen immediate (and profitable) results for both my sales funnel and book of business in general."
"[Dallas] is very innovative and enthusiastic in all aspects of his career and life in general. working with him is easy and he really opens your eyes to new ventures, options and is helpful in growing your career and expanding your media presence."
"Dallas is an innovative and energetic expert in social media networking. His experience as a business owner brings relevance to his passion of exceeding expectations. A definite asset for anyone looking to build and expand into the realm of excellence!"
"Dallas is a professional, intelligent individual with high business acumen and a great skill set for building professional relationships. I would have no hesitation recommending or referring him to any person in my professional network."
My proven process that produces results
ASSESS FIT
I'll get to know you, and you'll get to know me. It's important we get along, so your business can get ahead.
IDENTIFY NEEDS
What you want and what you need might not be the same thing. I'll help you establish a foundation to move your business from good to great.
STRATEGIZE
Let's establish your company's destination, where you want to be in five years, and develop the map to get you there.
IMPLEMENT
I sweat the small stuff so you don't have to. I'll deploy the messaging, tactics, and processes that support your strategic plan.
REPORT
You don't know where you're going if you don't know where you've been. I track and report, making adjustments to keep you moving forward.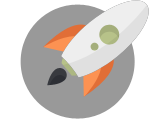 I'm here to help your business take off.
Through Creative Ideas, Innovation & Sheer Determination